---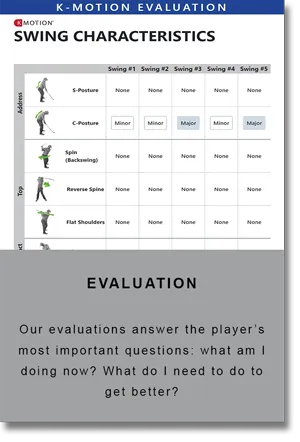 WHAT IS THE EVALUATION?
For the first time in golf history, 3D swing data is now available to everyone. Previously, this complex, game changing information had only been accessible to those with a deep understanding of biomechanics and the ability to interpret kinematic sequence graphs. The new K-Coach Evaluation tool takes that complex data and translates it into easy-to-understand scores and visuals, so every coach and every player can now put the power of 3D to work and say, "now I understand!"

---
WHAT IS BIOFEEDBACK?
Communicating how to move with words and your hands is a tall order. Biofeedback is the ultimate communication bridge between your instruction and your student playing better golf. All you do is load the activity or movement pattern and let the arrows, sounds and other digital visual training guides help the player find, perfect and make permanent their best swing.

---
What Type of Training?
At Performance Sport & Spine, We will build your personalized Improvement roadmap with training programs from over 300 activities. Train to Your Best Swing by selecting from 40 pre-built programs. Fully customize your range of motion and difficulty. Topics include full swing, short game, bunker play, specialty shots and putting and easy setup for every club in the bag.
---


Schedule your evaluation today at Performance Sport and Spine to experience the benefits K-Vest for Golf and Baseball have to offer.